Children's Toilet Partitions And Child Bathroom Stalls
For consumers looking to provide restroom partitions for children that are younger, it can be challenging as most are designed for adults. Typical partitions have doors and panels that are 58" in height which is great for privacy for adults but not ideal for our young youth.
When school and childcare supervisors try to oversee children, it makes it difficult to assist when needed. Hadrian Partitions offers a solution to this problem with Child Height Toilet Partitions. These children's bathroom partitions are the perfect fit for preschools and other establishments where you will often find younger kids. It's helpful to have smaller sized children's bathroom stalls that teachers and caretakers are able to see over in case of an emergency.
At Partitions and Stalls, we distribute top-rated and highly regarded children's toilet partitions and partition parts from Hadrian, a reputable children's toilet partition brand. Hadrian Junior Partitions are geared toward preschools and childcare organizations that have many young kids in the building on a daily basis.
We have witnessed firsthand the durability and the charming visual appearance of Hadrian's junior height toilet partitions, and they have become a number one choice to use in preschools. Order your childcare toilet partitions from us online today and you can have your hardware delivered to you very soon. Just let us know your preferences so we can get you the correct style of child care toilet partitions for the restroom that you are constructing or renovating.
Our Selection Of Junior Partitions
Hadrian offers Floor Mounted Overhead Braced and Floor Mount Only Junior Partitions that are tailored to providing privacy and functionality in restrooms for children. Both designs come standard with 48" height doors and panels while still utilizing standard full size pilasters and hardware as to not compromise the integrity of the children's partitions.
You will need to determine which mount design will work best with the restroom you are putting the children's toilet partitions in. Will your restroom require the children's partitions to be ceiling hung or floor mounted only? You can choose how you want your children's bathroom partitions to be mounted based on the details below.
The Floor Mounted Overhead Braced Junior Partitions design uses 82" high pilasters as well as double ridge anti-grip headrail for superior durability and strength while keeping the same appearance as the adult sized partitions. Headrail braced units provide more stability for the children's toilet partitions as they strengthen the top section. Floor Mounted Only Junior Height Toilet Partitions are designed to have pilasters that are 70" heights without a headrail as to create a lower profile appearance while being able to sustain their durability.
Which Junior Stalls mounting design do you think will benefit your kid-friendly bathroom most? We can always help you find the answer to your junior toilet partitions inquiries if you are still unsure.
Options For Children's Toilet Partitions
Child Toilet Partitions come in several styles that you will want to choose from. For example, you have the option to choose from various materials, colors, and mounting styles for the Hadrian junior toilet partitions that you order from our website.
Material Options: Powder Coated Steel or Stainless Steel.

Powder Coated Steel Color Options: All Colors on Powder Coated Color Chart (Solid Colors, Anti-Graffiti Resistant Colors, Special Effects Colors) are available for children's bathroom partitions.
Stainless Steel Color Options: All Stainless Steel children's toilet partitions are available in 304 with a #4 Brushed Finish or Embossed Pattern (Basket Weave Design).

Hardware Options: Chrome & Stainless Steel, Concealed & Wrap, Continuous Stainless Steel Hardware, No-Sightline Options.
Mounting Options: Children's bathroom partitions come in headrail braced and floor mount versions.
Measurements: All Panels and Doors for child bathroom stalls come 48" tall.
Measurements of Children's Toilet Partitions - Floor Mounted Only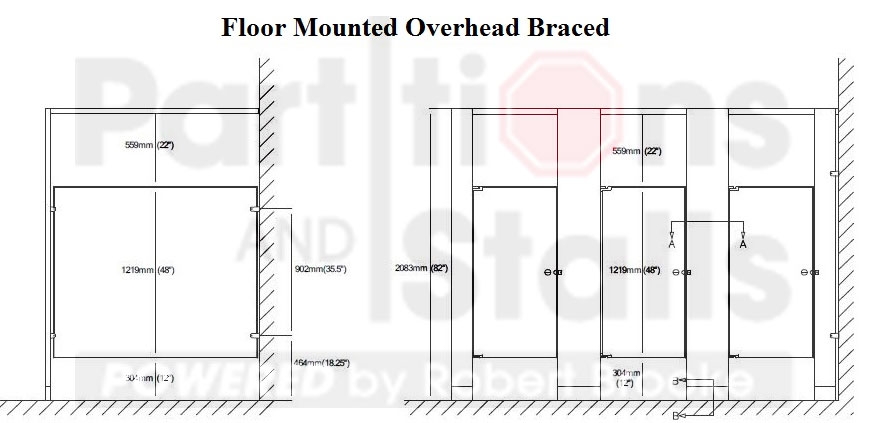 Measurements of Children's Toilet Partitions - Floor Mounted Overhead Braced
Shipping Children's Bathroom Partitions
It's very important that you know about the Lead Time for the children's toilet partitions you are ordering from our web store. ALL children's partitions will have about a 3 week production time not including transit time. Quick Ship color options do not apply to child bathroom stalls.
Ordering Children's Bathroom Stalls Online
At Partitions and Stalls, we have been a leading distributor of bathroom partitions and hardware for more than 4 decades. Our dedicated team has developed expert level knowledge and skills to provide you with only the best solutions for your ongoing kid partitions projects. Please feel free to contact us and speak with one of our knowledgeable technicians should you have any questions about your order of children's bathroom partitions.
It can be a challenge trying to figure out just what types of kid stalls are most suitable for your preschool or other kid facility. Our team is here to make choosing the best Junior Partitions a less challenging project for you.
To order Hadrian Junior Toilet Partitions, send your job information or inquiries during regular business hours, Monday through Friday any time from 8 a.m. to 5 p.m, using one of the following methods:
Email us at sales@partitionsandstalls.com.
Call our main office phone at 1 (800) 642-2403.
Send us a fax at (800) 642-2406.
We want to help make sure that you receive the best children's bathroom stalls for your restroom project.